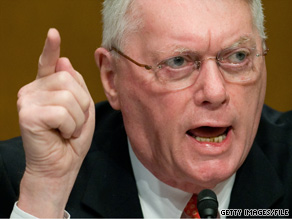 An angry Sen. Jim Bunning, R-Kentucky, refused to answer questions from CNN and ABC News Monday afternoon about his decision to block a bill that would extend unemployment benefits to millions of jobless Americans. An ABC News producer who was there says Bunning gave him the middle finger in response to a question.

CNN's Dana Bash and a CNN camera crew tried to get Bunning to comment more extensively on the controversy on Monday. But the senator "got very angry," she said.

"Excuse me," the agitated senator told Bash while entering a Senate elevator. "I need to get to the (Senate) floor."

Moments earlier, and ABC News reporter and crew also attempted to question Bunning as he was getting on the Senate elevator.

A posting on the ABC News website details the exchange: "Excuse me! This is a Senator's only elevator!" Bunning responded as he was asked a question by ABC's Jonathan Karl.

"Excuse me!" Bunning yelled. "I've got to go to the floor!"

ABC News producer Z. Bryon Wolf spotted Bunning as he exited his office. When Wolf asked Bunning to stay and talk to cameras, Wolf says Bunning walked away and shot his middle finger over his head.

CNN reached out to Bunning's office for comment. A spokesman for the senator said "I don't have any comment," when asked about the obscene gesture.
Sen. Harry Reid asked him, "Where was my friend from Kentucky when we had two wars that were unpaid for during the Bush administration?"
"We don't need lectures here on debt" from the GOP, he said. "There are poor people all over America who are desperate today."
Reid also mentioned the Bush administration tax cuts, which Democrats have said are unpaid for, according to CNN.
Suddenly, oh so suddenly, the Republicans are careful about spending money. Even for the unemployed.
About that middle finger thing? No doubt there are plenty of unemployed Americans saying, "Right back at'cha, Jim." Enjoy that Senator's-only elevator while it lasts.