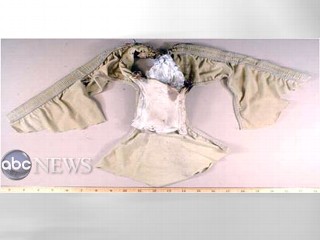 Thanks to the Associated Press, you can now see that guy's underwear.
A singed pair of underwear with a packet of powder sewn into the crotch, seen in government photos obtained exclusively by ABC News, is all that remains of al Qaeda's attempt to down an American passenger plane over Detroit.

As seen in these photos, the alleged bomb consisted of a packet of powder sewn into the briefs of Umar Farouk Abdulmutallab, a 23-year-old Nigerian. Al Qaeda took credit Monday for the attempted bombing, boasted of its ability to overcome U.S. intelligence and airport security, and promised new attacks.

The first photo, to the left, shows the slightly charred and singed underpants with the bomb packet still in place. All photos include a ruler to provide scale.
Now you have seen an alleged terrorist's underwear. No alleged skid marks.
Amazing.